The Water Resources Department (formerly known as Irrigation Department) has a glorious history of Irrigation over last 150 years. The state of Maharashtra come into existence in the year 1960 after bifurcation of old Bombay State into Maharashtra and Gujrat. In the year 1960 the Public Works Department was divided into Irrigation Department and Building and Communication Department. Since 26 October 2004 Irrigation Department is known as Water Resources Department.The planning & development of irrigation facilities in the State is entrusted with Water Resources Department (WRD) and Rural Development & Water Conservation Department (RD & WCD). WRD is entrusted with survey, planning & design, construction & management of major, medium and minor projects having Cultural Command Area (CCA) 250 ha. and more. Where as survey, planning, construction & management etc. of minor projects below 250 ha. CCA is entrusted to RD&WCD. In addition to this, planning, construction & management of Kolhapur type weir, lift irrigation, diversion weir, percolation tanks and village tanks and minor irrigation tanks below 100 ha. CCA is also with a local body at district level called Zilla Parishad under Rural Development Department.
In order to accelerate the completion of irrigation projects in Maharashtra State, the Government has established five Irrigation Development Corporations in the state. Viz MKVDC, Vidarbha Irrigation Development Corporation, Tapi Irrigation Development Corporation, Godavari Irrigation Development Corporation, Marathwada Irrigation Development Corporation, Konkan Irrigation Development Corporation. All the Corporations are headed by the officers of the rank of Secretary to Govt. and designated as Executive Directors. These corporations were allowed to raise funds through open market in the initial period. Now a centralized procedure is followed for funding the construction activities of the corporations through Maharashtra Irrigation Finance Corporation (MIFC). The projects not covered by corporation jurisdiction are rest with Water Resources Department. Now, one of the key institutional reform initiatives of the state is reconstructing of the existing Irrigation Development Corporation's into River Basin Agency's with a view to strengthen the states capacity in multi sector planning and management of water resources at river basin level.
For more information:-
Proactive Disclosure of WRD under RTI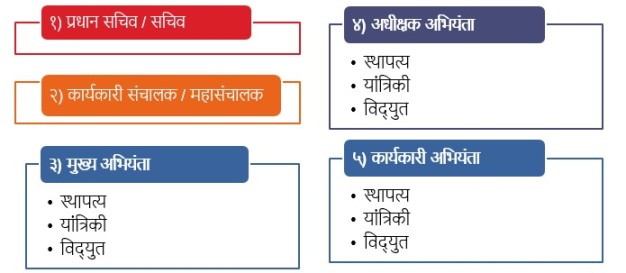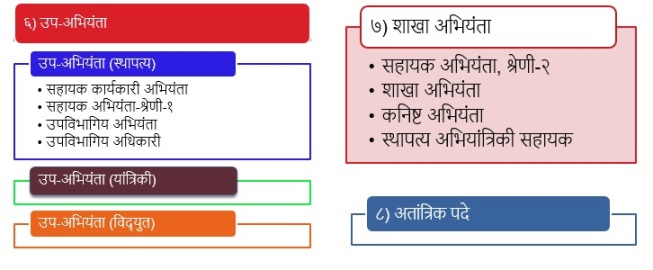 उपरोक्त पदांपैकी कार्यकारी अभियंता व त्यावरील पदे केवळ पदोन्नतीद्वारेच भरली जातात. उप-अभियंता या संवर्गामधील सहायक कार्यकारी अभियंता, गट-अ (स्थापत्य) व सहायक अभियंता, गट-अ (स्थापत्य) ही पदे तसेच शाखा अभियंता संवर्गातील सहायक अभियंता, गट-ब (स्थापत्य) ही पदे लोकसेवा आयोगाच्या महाराष्ट्र स्थापत्य अभियांत्रिकी सेवा परिक्षा मार्फत भरली जातात.