Certification course in e-Governance is first ONLINE certification course in e-Governance in India, which has been brought by DIT, Govt. of Maharashtra. This unique certification programs tests an individual's skill and knowledge on e-Governance and is mandatory for all DIT Staff, Consultants and Software developers working with Govt. of Maharashtra. This certification is also strongly recommended for all stakeholders working on e-Governance projects anywhere in India.
Another unique feature of this certification program is that it is an OPEN BOOK test. The focus is not on mugging up definitions, but understanding concepts and being able to appreciate and apply in real scenarios. The participants are free to read and search on the net, but are expected to articulate the responses in their own words.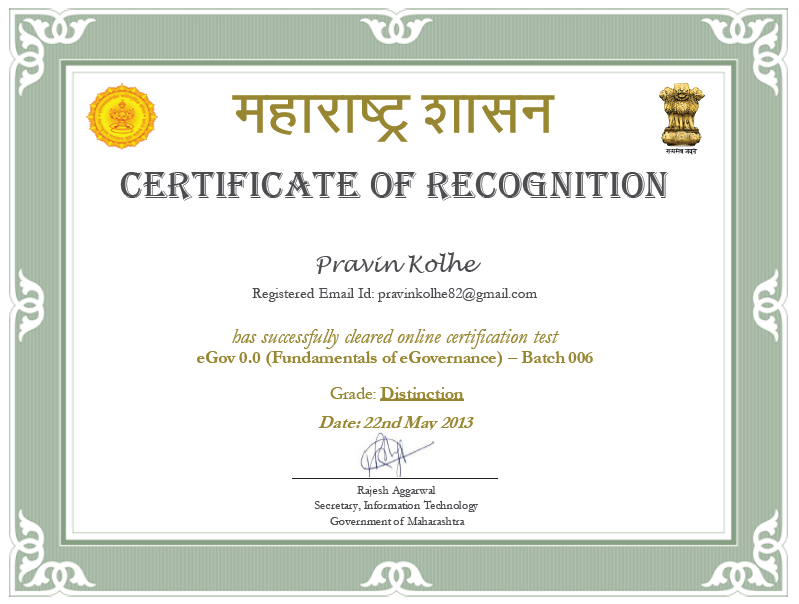 This certification program consists of THREE stages as follows:
FIRST stage is the ONLINE written Objective Questions Test. One must score minimum 45 marks out of 60 in this to proceed to next stage.
SECOND stage is ONLINE written Subjective Questions Test. One must score minimum 60 marks out of 100 marks in this to proceed to next stage.
THIRD stage is Personal interview on Skype and Google Hangouts, which is of 40 marks, in which the minimum cutoff score is 20 marks. (Any Cut and Paste job and plagiarism in Online Written stages will be caught at Interview stage).
Overall, one should score minimum total of 120/200 (60%) to pass. A score of 75% or more earns Distinction. Results for each stage shall be announced on this website.
For More information, Click Here