PhD at Centre for Technology Alternatives for Rural Areas (CTARA), IIT Bombay

Admission : Autumn Semester, 2020­-21

Admission Process as follows-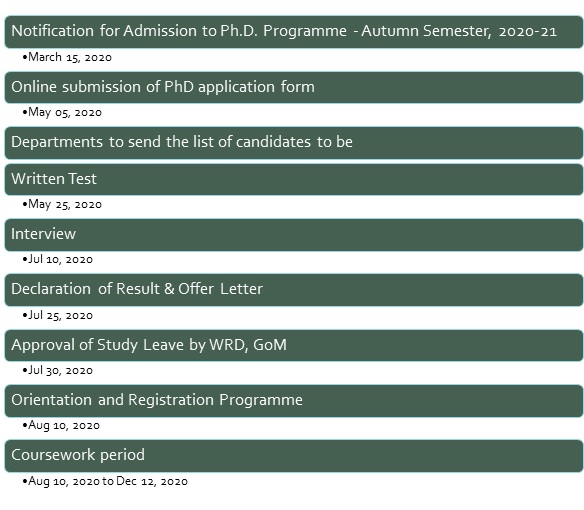 Ph.D. PROGRAMME STRUCTURE:
As per rules and
regulations of
the Institute, the Degree of Doctor of Philosophy (Ph.D.) may be conferred on a student subject to the following conditions:
i.
Research work has been carried out at the Institute under the guidance of Supervisor(s) for at least two years in the case of all students (except external students) and three years in the case of external students after their date of registration on a topic duly approved by the Senate.
ii.
The thesis submitted by the student is required to be recommended for the award of the Ph.D. degree by two external referees and by the Board of Examiners constituted for the viva-voce examination.
Notwithstanding the provision of O.D.2 (a), a student registered for the degree of Doctor of Philosophy may be permitted to carry out a part or the whole of his/her research work outside the Institute in a factory, laboratory, workshop, worksite or other research centers duly approved for the purpose by the Institute.
The Ph.D. Programme consist of two parts-
1)
Coursework
2)
Research
Coursework
As per instructions from CTARA, Ph.D. student must demonstrate competence in at least two of the 4 identified sectors (water, agriculture, energy, appropriate technology, policy and governance) either by coursework or by prior experience.
| | | |
| --- | --- | --- |
| Course Code | Course Name | Credits |
| HS 791 | Communication Skills -I | 2.0 |
| TD 792 | Communication Skills -II | 4.0 |
| TD 601 | Development Theory & Policy: Indian Context | 6.0 |
| TD 603 | Water Resources Management | 6.0 |
| TD 626 | Technology, Society and Development | 6.0 |
| TD 651 | Technology in Practice (Quantitative Analysis) | 3.0 |
| TD 652 | Development in Practice (Qualitative Analysis) | 3.0 |
| TD 694 | Seminar | 4.0 |
| | Total = | 34.00 |
Research:
Following are important steps-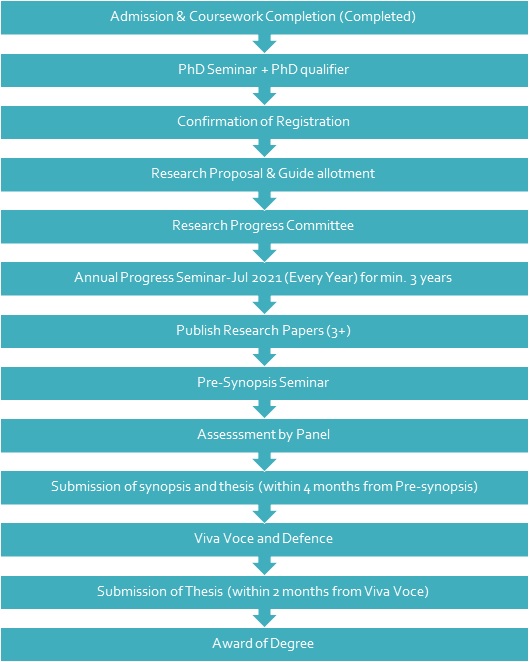 ---
Indian Institute of Technology, Rules and Regulations for PhD Programme, 2019-20, O.D. 2