The Executive Post Graduate Programme in E-Governance (EPGP- EG) of IIM Indore intends to create a pool of skilled professionals in e-governance domain who can be instrumental in ensuring good governance in the country either through government initiatives or through private participations. EPGP-EG is an effort to bridge the growing gap between demand of skilled and relevant manpower and their availability. It is an intensive one-year residential programme designed to inculcate skills in management, governance, and IT enabled administration. Supported by the National Institute of Smart Government (NISG) and Department of Information Technology (DIT), Government of India, the programme is expected to build manpower that can take leadership role in private and government organizations in conceptualizing, designing, and implementing e-governance projects.
All participants of EPGP-EG of 2013-14 batch are privileged to be the first batch under the auspice of Executive Post Graduate Program in E-Governance conducted by IIM Indore. In the first year of its launch, the program was rated by Outlook Business, one of the top 30 courses for rising managers in India and Overseas.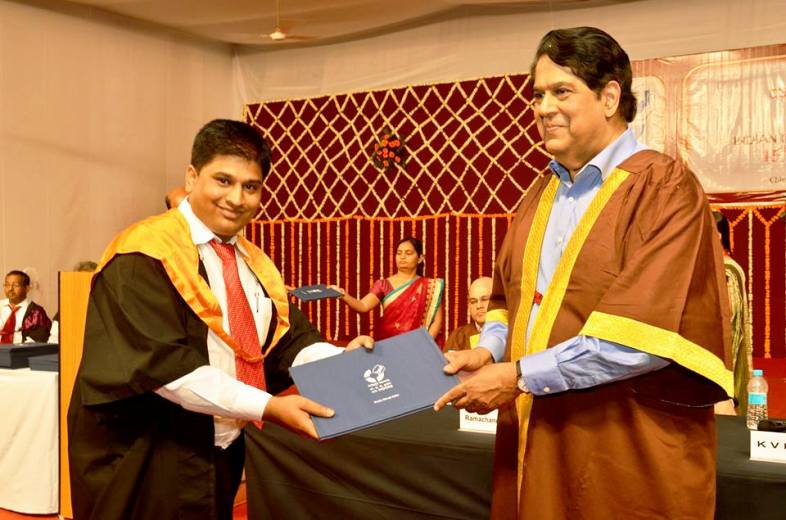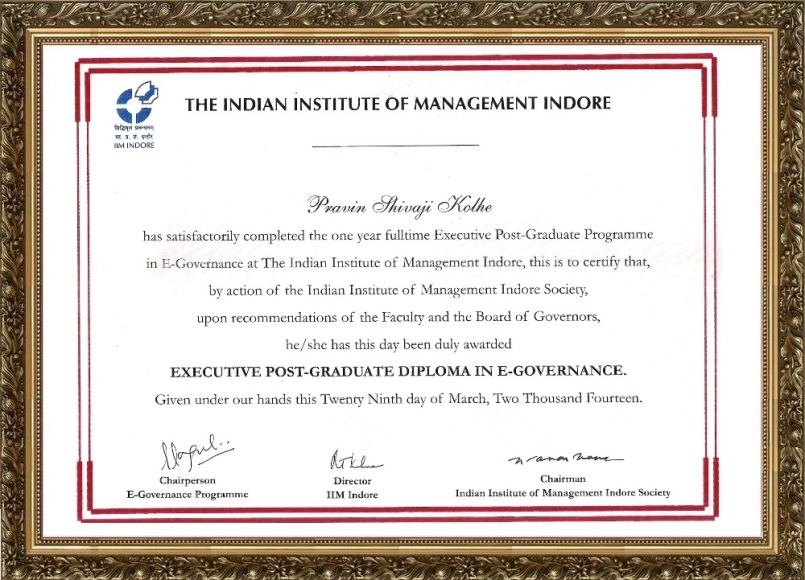 The design of curriculum is an important aspect of ensuring relevant and updated content delivery to the participants. To ensure that the program helps the participants in conceiving, planning, implementing, and evaluating e-governance projects in both Government as well as private sectors, the course content focuses on three aspects: (a) domain knowledge of related and relevant fields (b) hands on project experience and (c) interaction with experts and field visits. The course design therefore is a judicious mix of management, technical, and governance concepts complemented with a significant internship module. While Terms I and II cover basic and advanced level courses in management, technology, administration, and governance, Term III comprises of elective courses that participants can choose from a portfolio of courses. These elective courses are offered in view of the participants' needs and the industry feedback collected apriori.
The EPGP-EG program is designed in two parts: the academic part and the internship part. It is a fully residential program and therefore participant is need to be available in the campus during the academic part comprising the three terms of eight weeks each and the finishing school. The lodging and boarding will be arranged by IIM Indore during the in-campus academic part. Participant will be provided with all infrastructural facilities available for students during your stay in the campus.
The internship process is an important aspect of the program. All participants need to complete their internship in an organization (either government or private) working in the broad area of e-governance. The choice of the organization and finding a suitable organization to do internship rests with the participants. However, IIM Indore will provide logistical help and counseling on need basis to find a suitable organization for this purpose.
In a nutshell, the programme comprises of four phases: Foundation courses in management and e-governance (two terms), Specialized courses (one term), Internship and Finishing School. The participants, after successful completion of the course, will be awarded Executive Post-Graduate Diploma in e-Governance. They will also be given alumni status of IIM Indore.
Term

Content

Duration

Credits

Term –1 : Core courses

Management tools and techniques, Basic e-governance and IT concepts, Communication.

8 Weeks

24

Term Break

1 Week

Term – 2: Core courses

Public policy and technology enabled administration, Advanced courses related to e-governance.

8 Weeks

24

Term Break

1 Week

Term –3: Elective Courses

Project Management, and Specialized courses in management and e-governance.

8 Weeks

24

Internship

Participant initiated internship in e-governance or related projects.

20+1 Weeks

20

Term –4: Finishing School

1 Week

4

Total=

48 weeks

96
Course Structure & Faculty:-
As mentioned in the offer letter of EPGP-EG, IIM Indore along with NISG provides career counseling on need basis to participants for finding an appropriate job at the end of the course. Placement related activities at IIM Indore is a student driven activity and IIM Indore will encourage all participating students to take advantage of the facilities provided by IIM Indore to conduct a successful placement season. As placement is a student driven activity, the responsibility of finding a suitable job rests with the participating students. The institute's role is limited to providing logistical support for student driven in-campus placement related activities.
Participants of EPGP-EG 2013-14 had opportunity for internship mainly in organizations like NISG, Hyderabad, Government Organizations implementing Mission Mode Projects or e-Governance projects at central or state level, NeGD, New Delhi, NISG, New Delhi and SeMT, Mumbai. Further consultancy firms like E&Y, PWC, KPMG, GT (Grant Thornton) etc. also provided opportunity of internship and some of them resulted in absorption as employee after completion of course. But this should not be generalized as it is highly dependent on performance of participant. I do not have correct detailed information of all participants of 2013-14 batch, but I can say that most of private candidates are working at good position in consultancy organization and government sponsored candidates are working on e-Governance project from Government side.
Presentations Delivered during EPGP-EG at IIM Indore, 2013-14
1) Program Guide by NISG-2012
2) EPGP-EG-IIMI Website
3) Participants Profile-Placement Brochure of EPGP-EG-IIMI-2013-14