The Department of Civil Engineering at the Indian Institute of Technology Kanpur in association with Tandon Consultants Private Limited, New Delhi, has been conducting an exciting annual four-week technology camp each summer since 2001 for the second year undergraduate civil engineering students from across the country. The objective of the camp is to re-create the romance of Civil Engineering profession and motivate the participants to excel in this fascinating field of human endeavor.
This Camp, as acclaimed by its past participants, has been a Life Transforming experience! They meet leaders of the civil engineering profession in India: construction engineers, design consultants, academicians ... who have excelled in their own fields in the domain of civil engineering, and are today role models to emulate. The Camp also takes the participants through a first hand experience of select prestigious civil engineering projects of the nation from the historic past to the current genre. The Camp gets down to action through hands on projects and videos of Civil Engineering projects of yesteryears. Check out for yourself what happened in the past years by journeying though the stories from these years.
This special Summer Camp is conceived and spearheaded by Professor Sudhir K. Jain of the Department of Civil Engineering at IIT Kanpur and Mr. Mahesh C. Tandon, Managing Director of M/s Tandon Consultants Private Limited, New Delhi, who is also the INAE-AICTE Distinguished Visiting Professor at IIT Kanpur. For the last six years, the Camp was made possible by the generous support of the civil engineering industry in India.
Getting selected to this coveted four-week all-expenses-paid Camp is a matter of pride to the second year civil engineering students across the country. For students from the non-IIT system, this is also an opportunity to peep into the ongoing technology projects in the Department of Civil Engineering at this Institute. Only two students from each college, who have performed well in academics as well as extra-curricular activities, get nominated for the camp. The camp will provide a splendid platform for the overall development of personality of the student in addition to the academics.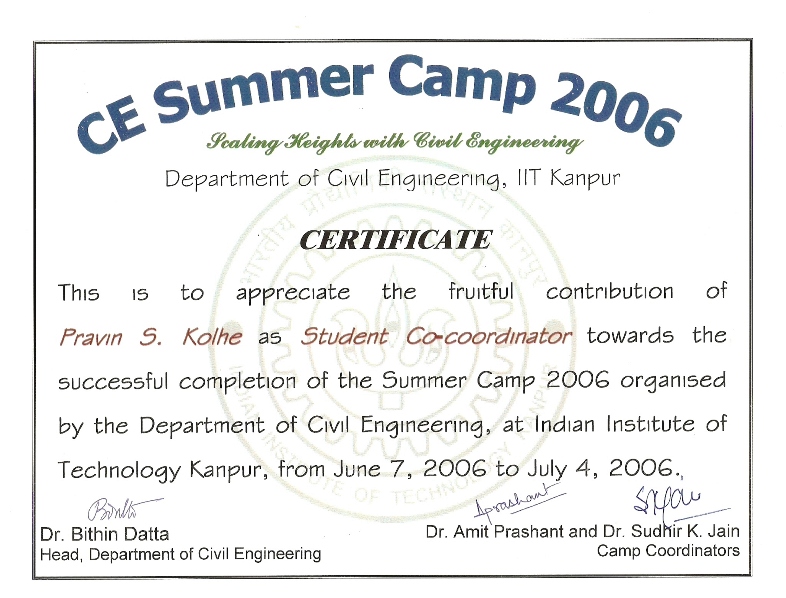 Click here

for official website of summer camp
Click here

for article on Summer Camp-2006 published in CE&CR
Click here

for official website of IIT Kanpur